I am slowly getting ahead of myself this year! I might actually get my cards in the mail before Christmas. I also am dedicating 2012 to more posts as it looks like I'll be able to upgrade our internet service - HOORAY!
Thanks Shutterfly for another easy way to get my holidays started. I have used them for my photobooks and holiday cards now since the first year I started, and truly love their site. I'm even working on approval from Briarwood to setup a site for our class to share photos of the kids events this year, have to get administration and all the parents to agree, but their classroom site options seem to have thought of everything...we shall see!
Let the holidays begin!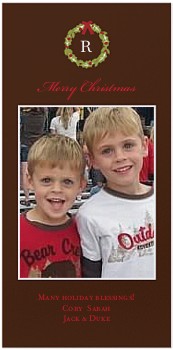 Charming Holly Wreath Christmas

Note: I always disclose special offers, I did get a $10 credit for posting this to my blog. But since I love Shutterfly anyway - WIN WIN for me!